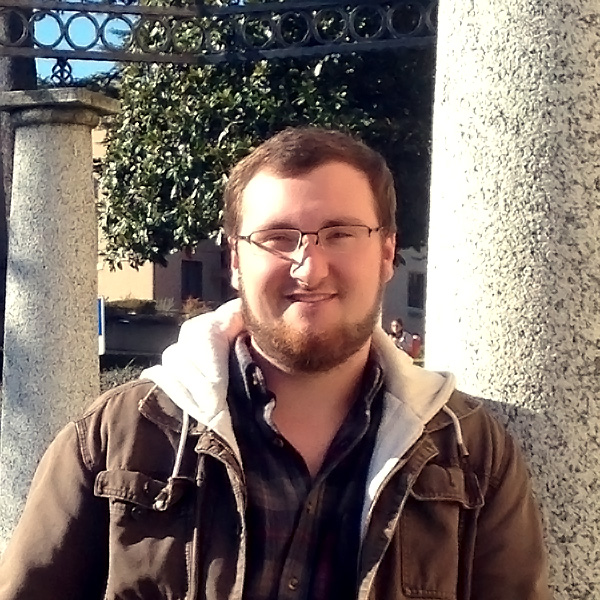 Hometown: Roswell, Georgia, USA
Nationality: American
Previous Institution: Fellowship Christian High School
Majors/Minors: International Management with emphasis in Marketing
Class of: 2017
Which universities and/or schools have you attended in the past?
Fellowship Christian High School
What is your international background?
Before I came to Franklin, I had yet to leave the United States.
How did you hear about Franklin University Switzerland and why have you chosen to study here?
One day at home, I received a brochure in the mail featuring Franklin and immediately was captivated by the European experience. I wanted to attend Franklin because I desired to see the world and all the different cultures in it.
What is your major and why have you chosen this field of study? Is there a particular subject within this field that you find especially fascinating?
My major is International Management with an emphasis in Marketing because my family background is deeply imbedded in the business world. I have grown up in a business environment and would love to expand my knowledge of how businesses are managed properly.
Why do you think a student who is interested in your major might want to choose Franklin University Switzerland?
A student with an interest in the same major as me might be interested in attending Franklin because it is an international school that brings together many students from different cultural backgrounds, allowing for a deeper understanding of how businesses are managed in different cultures around the world.
What has been your favorite Academic Travel course, and why?
My favorite Academic Travel was to Venice with the study of Freshwater Systems. This was my favorite travel because its discipline was science. If it was only a lecture I probably would not have enjoyed it, but we traveled for a week and a half practicing what we had learned in class. This allowed me to easily understand how our subject matter operated in real life situations and not just in the diagrams of a textbook.
If you have already had this opportunity, please tell us more about any internships/study abroad programs you have done.
This past summer, I had an internship on Capitol Hill in Washington D.C. where I worked in the office of Senator Boozman of Arkansas. It was a great experience, as I learned many of the operations of the United States Congress, but more importantly I learned firsthand how to communicate with the constituents of the Senator. As an intern, I had many duties and among them were answering phone calls from Arkansans, where I did my best to help citizens with their concerns, and giving personal tours of the Capitol Building. These two duties allowed me to experience how to assist and communicate with people in a professional manner, which will only help me later on in my career when I conclude my studies.
What are your general or specific career goals? How do you think studying at Franklin will help you achieve these goals?
My general career goals would be to work in a top level firearms manufacture business, and many of these manufactures are on the international level of business. I believe that attending a school that is immersed in internationality will only benefit me with achieving these goals.
What do you like best about the campus or university?
The best quality of the university, in my opinion, is the Academic Travel because it allows for learning a specific subject and seeing it in practice with the professor. It allows for greater understanding of the subject matter because it is a great way to engage in the material. It also allows for a stronger connection with the professor, which is difficult to obtain at larger universities.
What are your first impressions of the university?
Arriving from my hometown, I found the university to be similar to my small high school although it was unbelievably more diverse in cultural background. I was beyond delighted to find that the class sizes did not exceed 30 students because it allows for a more personal and higher quality level of teaching by the professor.
What are you passionate about beyond university extracurricular activities?
Traveling and American football are two of my passions outside of the university. The university is located in central Europe, which has made it extremely easy to take a few days and travel around independently to places such as Paris, Kiev, and even to central Asia. Lugano has a small American football team that I became involved in during my freshman year, which has allowed me to connect with the local community and travel around Switzerland to compete against other cities.
What do you do for relaxation/recreation?
I typically will venture downtown and to the parks and enjoy the local environment with friends. The parks of Lugano are very peaceful, relaxing and just otherwise a great way to enjoy Lugano and its best features.
What tips would you give to someone coming to Franklin University Switzerland from your home region?
Leaving the South, which remains by far my favorite region of the world, can be difficult as the culture is vastly different and autumn cannot compare to that of how it is at home, but it can be one of the best experiences of a lifetime. Coming to Switzerland and Europe, you are able to see how different life can be an ocean away. Pictures and books of different cultures only ever scratch the surface and cannot beat firsthand experiences with the different cultures and their people.
What surprised you most about Franklin?
What surprised me the most was how independent Franklin and life in Switzerland has made me. Living across the Atlantic from my family has made me responsible for most things because I cannot go home for the weekend so that my mother can do my laundry for me or give me some food to take to school.
Tell us about an important lesson or an epiphany you have had during your time here.
The most important lesson I have learned and am still learning is time management. I believe that time management is an essential life skill that must be learned so that you can accomplish many different goals. It is especially important at Franklin because time must be managed if one wishes to remain studious and have the availability to travel on a regular basis.
Describe your typical day here at Franklin.
The typical daily life for me at Franklin usually is that I will wake up around 7:30 or 8 so that I may get a nice bagel and bacon for breakfast. Usually afterwards, I am in class or studying for classes until the evening. For lunch, I will either cook for myself or eat at the grotto. The evening usually consists of either spending time with friends, watching movies or possibly both.