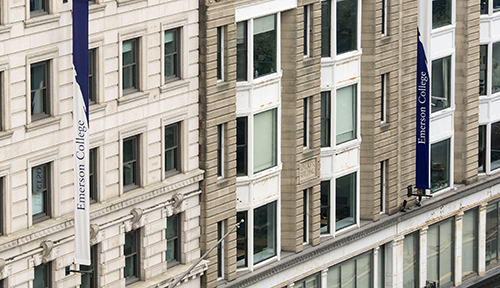 The Global B.A. in Business of Creative Enterprises provides students with the opportunity to obtain degrees from both Franklin University Switzerland and Emerson College.
This new dual degree program is grounded in a mutual understanding and appreciation for both the liberal arts and a global experience, giving students a valuable international perspective on global leadership in the growing creative industry.
In the undergraduate program at Franklin you will receive a high-quality liberal arts education with an international focus and participate in the signature program, Academic Travel. Your studies at Franklin will set you up for academic success at Emerson, where you'll study topics in strategic management, creative collaboration, marketing and design thinking.
Earn an Associate's Degree and a Bachelor of Arts
During your time in the program, you will spend:
Two years in Lugano. At Franklin, you'll take liberal arts and foundational courses, travel to other cities as part of your curriculum, and earn an associate's degree. Surrounded by the Swiss Alps and situated on its namesake lake, Lugano is not only breathtaking, but is also the ideal home base for the Franklin experience: a high-quality liberal arts education and an exploration of the world and its people.
A summer and two years in Boston. In a city that's a hotspot for entrepreneurs and startups, you'll work alongside experienced faculty and students who share your passion for business. You'll learn to develop strategies and programs, identify cultural trends, tap into new markets, analyze financial statements, and assess risk.
Widen your Perspective on the World
Explore the variety of viewpoints available on Franklin's international campus and take away a new perspective on cultural differences that will enhance your studies at Emerson and provide a foundation for your leadership skills.
The First Year Seminar at Franklin pairs you with a professor in your desired discipline, focuses on Franklin's unique culture and the larger Swiss community, and provides a basis for cross-cultural interactions and life in a multicultural environment.
Switzerland's status as the most innovative country in the world (Global Innovation Index 2020) provides a perfect context for a foundation in creative enterprises.
Lugano gives you access to the LAC, Lugano Arte e Cultura, the city's new Arts Center; as well as cultural and art festivals throughout the year.
Engaging free panels and events are found on Emerson's Boston campus, featuring notable speakers and covering a variety of topics in the creative economy, data analytics and business ethics.
Franklin is a short train ride from Milan, the commercial center of northern Italy, where you will find not only another vibrant cultural center to explore, but also easy access to other major European cities.
Curriculum
Students will spend their first two years at Franklin, followed by a summer session and two years at Emerson. Upon completion of the program, students will have earned two degrees: an associate's degree from Franklin and a B.A. from Emerson.
Year One: Franklin
Year Two: Franklin
Summer Session: Emerson
Year Three: Emerson
Year Four: Emerson
Recommended Emerson BCE Electives by Subject
Performing Arts and Theatre
For more information see Emerson's website.