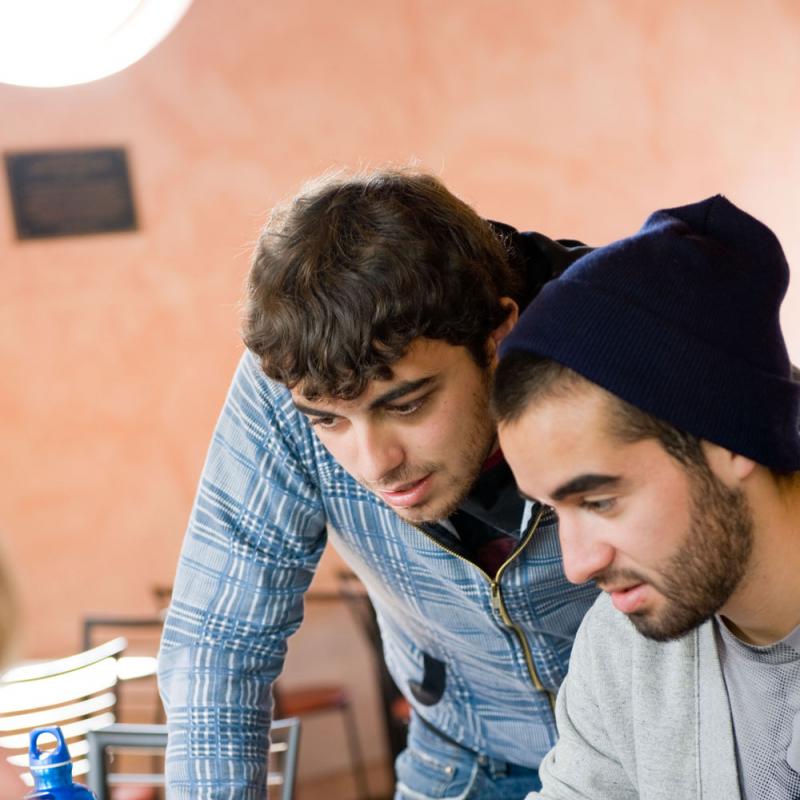 Franklin has something for everyone! Whether you like acting, skiing or discussing current political issues, you can find your niche at Franklin in at least one of the clubs here on campus. If you prefer planning student events, allocating funds to clubs and discussing student issues, we encourage you to take part in the Franklin Student Government Association too!
Student Government Association (SGA)
The Franklin University Switzerland Student Government Association (SGA), elected by the student body at large, assumes the duty of representing students' needs and interests in all facets of University life, from academics to student engagement. The Association is composed of an assembly of elected student representatives and a five-person executive board. The Student Government Association itself, under the oversight of the President, Vice-President of Development, Vice-President of Programming and Clubs, the Treasurer, and the Secretary, is composed of the following five committees: Academics and Policy, Community Development and Initiatives, Programming and Clubs, Budget Inventory and Data, and Public Relations and History. The General Assembly holds open meetings weekly to manage assorted university social events, allocate student funds and to discuss the refinement of university policies in line with students' interests. The SGA is responsible for providing students opportunities to develop and enhance their leadership abilities while promoting institutional improvement and innovation.
Our weekly meetings are on Wednesdays at 19:15 in the North Campus Conference Room.
Everyone is welcome!
Student Organizations
Franklin students get involved on campus and in the community. Each year, student organizations coordinate dozens of programs, projects and other initiatives, and they are a key part of student learning at Franklin. This year, the student organizations below have been among those active on campus. If you don't see an organization that relates to your interests, it's easy to start one's own student organization! Check in with the Office of Student Life to learn more.
Acappella
As a club, A Cappella is open to all who love to sing. We have informal meetings at least once a week where we join to sing whatever songs the members of the group would like to sing. Every week we work to improve our individual and group sound and further our passion for the love of song. We perform at least once a semester to showcase our progress as a group. A Cappella Club includes all levels of musical experience and requires no audition to join.
Art Collective
The Art Collective is a student coalition dedicated to the practice and establishment of art at FUS.
Film Club
The FUS Film Club aims to appreciate film as an artistic medium. Screenings and discussions of classic, influential, and otherwise brilliant movies will serve as the central focus, allowing students to enrich themselves within film culture.
Franklin Powder Rangers
Franklin Thespian Society
Franklin Thespian Society is a club for anyone who is interested in acting and/or theatre production. The club aims to provide a relaxed and fun environment for those who want to be involved in theatre, whether they be beginners or experienced. We choose a written play that we work on throughout the semester, which we ultimately perform to a Franklin audience. This is for entertainment purposes, but it is also a good place for anyone who wants to brush up on their thespian skills or to challenge themselves through theatre and performance.
Honors Society
International Student of History Association Lugano (ISHA)
The International Students of History Association is an international, non-governmental organization of history students. Our goals are to facilitate communication and provide a platform of exchange for students of history and related sciences on an international scale.
Latin American Club
The purpose of the Latin American Club is to provide a space where students, Latin American or not, can participate in and share the culture, traditions and customs of the Latin American countries represented, with the rest of the Franklin community.
Makerspace Club
Makerspace is a club that provides a community for creative students who want to make art and media. We host collaborative workshops, write-ins, and events that get the "creative juices" following on campus.
Middle Eastern Club
PACE: LGBTQ+ at Franklin
Political Discourse Society
The Political Discourse Society is the student organization for International Relations and Political Science students at Franklin University Switzerland and is open to students of all majors and disciplines. The purpose of the Political Discourse Society is to provide an open forum for discussion of current affairs and political topics on a consistent basis that is free from judgment and fun for all!
Scholarships Without Borders Club
Sustainability Club
Sustainability Club: To raise environmental awareness and create behavioral change within the FUS community in order to foster a culture of sustainability, advocate for a truly sustainable campus and improve social and environmental justice for all.
Sweet Iced Tea Club
The Sweet Iced Tea Club aims to facilitate a better understanding of the Southern United States by showcasing its culture through food, music, and other activities.
Vagina Monologues Club