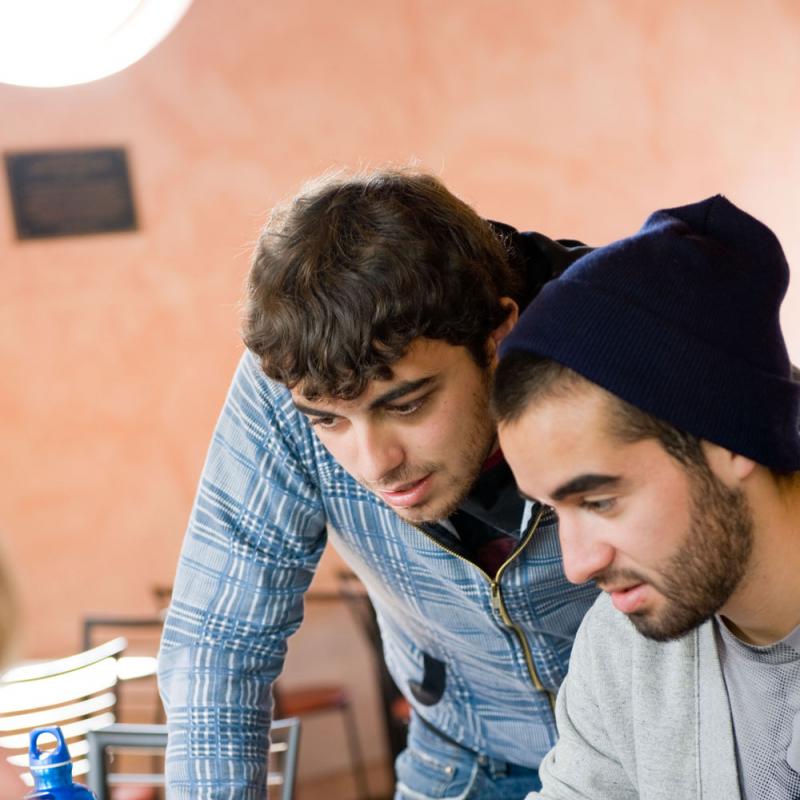 Student organizations are an exciting opportunity for students to engage with the community, pursue passions and interests, and gain leadership skills that will serve them throughout their lives. Student organizations are exactly that: they are coordinated and led by students, and students fulfill the organizations' missions.
Franklin has something for everyone! Whether you like acting, studying Latin, or discussing current political issues, you can find your niche at Franklin in at least one of the clubs here on campus. If you prefer planning student events, allocating funds to clubs and discussing student issues, we encourage you to take part in the Franklin Student Government Association too!
Student Government Association (SGA)
The Franklin University Switzerland Student Government Association (SGA), elected by the student body at large, assumes the duty of representing students' needs and interests in all facets of University life, from academics to student engagement. The Association is composed of an assembly of elected student representatives and a five-person executive board. The Student Government Association itself, under the oversight of the President, Vice-President of Development, Vice-President of Programming and Clubs, the Treasurer, and the Secretary, is composed of the following five committees: Academics and Policy, Community Development and Initiatives, Programming and Clubs, Budget Inventory and Data, and Public Relations and History. The General Assembly holds open meetings weekly to manage assorted university social events, allocate student funds and to discuss the refinement of university policies in line with students' interests. The SGA is responsible for providing students opportunities to develop and enhance their leadership abilities while promoting institutional improvement and innovation.
Our weekly meetings are on Wednesdays at 19:15 in the North Campus Conference Room.
Everyone is welcome!
Student Organizations
Franklin students get involved on campus and in the community. Each year, student organizations coordinate dozens of programs, projects and other initiatives, and they are a key part of student learning at Franklin. This year, the student organizations below have been among those active on campus. If you don't see an organization that relates to your interests, it's easy to start one's own student organization! Check in with the Office of Student Life to learn more.
Arab Club
The Arab Club, which aims to share Middle Eastern culture with the students at Franklin University. Our purpose is to include our students in the many beauties of Middle Eastern tradition and culture through events such as Arab night and many others.
Avant-Garde Drama Club
Avant-Garde Drama Club aims to give everyone a chance to enjoy theatre, see its beauty and express themselves in a safe space.
Classical Latin Society
Classical Latin Society aims to stimulate a Classical Latin language culture at Franklin through weekly study groups and events.
Crochet Club
The mission of the Crochet Club is to bring new and experienced crocheters/knitters together to create a relaxing environment to develop creativity. Participants can work on both individual and group projects.  
FUS Film Club
The FUS Film Club aims to appreciate film as an artistic medium. Screenings and discussions of classic, influential, and otherwise brilliant movies will serve as the central focus, allowing students to enrich themselves within film culture.
Franklin Garden Club
The Franklin Garden Club aspires to engage the Franklin community in the process of growing food with an emphasis on sustainability. We strive to create a collaborative community where members are able to contribute their time and creativity as much as they are able. We also hope to reinvigorate the composting program and strengthen our relationship with Dining Services. 
Latin American Club
The Latin Club's mission is to create a diverse and inclusive environment within our club while exposing people to Latin culture and traditions. 
Oikos Lugano
Oikos Lugano is a student-led nonprofit focused on incorporating sustainable economics and management into academics.
Political Discourse Society
The Political Discourse Society provides a forum for students to discuss current events and political topics. The club meets weekly and provides an open and judgment-free space for all.
Psychology Student Association
The mission of the Psychology Student Association is to increase awareness of mental health issues on campus and around the world. We want to build a platform for psychology and non-psychology majors to come share ideas, questions, and concerns. We also want to provide opportunities and knowledge about research, scholarship, and job opportunities in the field of psychology.
Senior Class
The Club is primarily here to connect the senior class with the student body and OSL and to work with them to help find funding used to develop the university before we depart. 
Sweet Iced Tea Club
The mission of the Sweet Iced Tea Club is to provide cultural events for students in order to create a better understanding of the Southern United States, while having great food!
Vagina Monologues
Inspired by the phenomenal work of Eve Ensler and her play, The Vagina Monologues, we want to establish a safe space for expression and identity. We try to host a swathe of feminist interactions including film screenings, health celebrations, and a performance of our own interpretation of the Monologues. We are here for awareness, education, and celebration!
WeeBoo Club
Club's mission is to create a community that appreciates the different forms of Asian media. The club believes in transcending language and cultural boundaries with various events that are not only fun but educational.
Yoga Club
The mission of the Yoga Club is to offer Franklin students a space to engage in movement and breathing exercises, to step away from the stress of academics, and to re-center mentally and emotionally. Yoga Club offers both a physical space to release tension and explore new ways to move, as well as creating a spiritual community.