As part of the 50th Anniversary Film Series, the University looks forward to kicking off the spring semester with the screening of "Balloon", a German award-winning, tense and spectacular historical thriller, directed by the renowned Michael Herbig, on January 29 in the Nielsen Auditorium.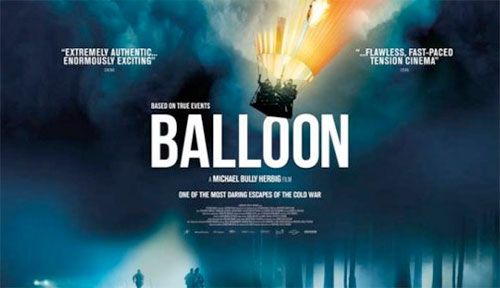 A 2019 Sonoma International Film Festival Audience Favorite, the movie tells the true story of the Strelzyks and the Wetzels, who built their hot-air balloon in a cellar in Thuringia, a state in the German Democratic Republic (GDR), before flying across the border into Bavaria one chilly night in September 1979, fighting for freedom with their courage and ingenuity.
From 1961 to 1988, 75,000 East Germans were jailed for trying to escape to the west, while more than 800 men, women and children lost their lives at the border and were branded traitors by the GDR regime. Wetzel, a bricklayer, made a different plan with his friend and colleague Peter Strelzyk, an electrician, and their wives, to secretly build a hot-air balloon from scratch. They took about 18 months sewing together meters of cloth and listening to weather reports before taking flight and landing safely in Bavaria on September 16, 1979. It was the first ever escape of its kind.
"For me the excitement of this project was to try to adapt the true circumstances of this audacious story as closely as possible for a modern-day public," said Herbig in an interview with The Guardian. The release of "Balloon" two years ago coincided with the 28th anniversary of reunification and renewed soul-searching about German identity.
Disney previously bought the rights to the story from both families and turned it into the 1982 film "Night Crossing"; however, both families were unhappy with the final film and welcomed Herbig's desire to, as he put it, "make a German film for an international audience."
The balloon itself, a colorful array of stripes created from small amounts of many pieces of fabric bought at different shops across the east, was carefully reconstructed for the film. The real version has recently been repaired and is on public display in the Haus der Bayerischen Geschichte, a Bavarian museum.