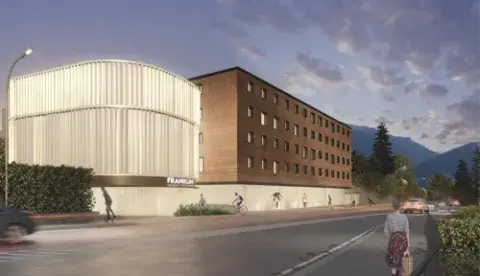 Celebrating the progress at the new campus complex on Saturday, April 17, 2021.
"It's a very special day for us at Franklin. We are growing, flourishing and doing remarkable things, thanks to the incredible support of our trustees, alumni, students and other generous donors. Today we celebrate who we are because of the "Phase 3" building project, a new student center, which is all about the students."
President Greg Warden shares his excitement as the currently dubbed "Phase 3" project moves closer towards completion. Saturday, April 17, marks a new milestone celebrating the final construction phase of the new campus complex, with the roof finally being completed. Franklin has been investing in its campuses and working hard to ensure that students, faculty and staff can work in an environment that inspires them to thrive and excel. The completion of the "Phase 3" roof brings Franklin a step closer to making this dream a reality, building for the future as well as contributing to the Ticino territory.
The beautiful new building, designed by the award-winning Italian firm Flaviano Capriotti Architetti, under construction by the Ticino-based building company Giovanni Quadri SA, and coordinated by architect Mr. Ceccarelli from AFRY, will be a prestigious showcase. Chairman of the Board of Trustees, Kim Hildebrant, commented "this building is a prominent piece of architecture and underlies the importance of good design." The exterior shape of the construction symbolically resembles the profile of a book and will include many living areas for the Franklin community. The ground floor will host a much-needed student center, a place for students to meet, get together or relax, and classrooms with convenient modular spaces. This same floor is also home to the offices of Student Life and Taylor Institute, a medical and counseling center, as well as an art gallery. There will also be four floors holding residences with modern and comfortable apartments for students, and a large fitness center, the new Tone Athletic Center, situated on the very top of the building. Moreover, next to the main building, a remarkable tower-like structure will also be erected, utilizing photovoltaic louvers to produce energy. This edifice will become a space dedicated to a reception area and an auditorium, with a capacity of 100 seats, and a state-of-the-art projection and sound system. Last but not least, the internal courtyard of the complex will additionally include the Angela Fowler Atrium and a spectacular landscaped space, the "Garden of Light", a special wellness garden where students can gather in good weather and find peace.
Saturday, April 17, will be a historic moment as Franklin celebrates this momentous occasion together with special guests, while following the COVID-19 safety regulations. Local invitees will be Sorengo Mayor, Ms. Meuli; Mr. Soldati from the Consiglio di Fondazione; architects Mr. Ceccarelli, Mr. Cuscianna and Mr. Capriotti; members from Banca Stato Mr. Pedrazzi and Ms. Di Vietri; Mr. Quadri and Mr. Biondi from the Quadri SA construction firm. Brief but heartfelt speeches will be delivered by President Greg Warden, Chairman of the Board of Trustees Kim Hildebrant, Sorengo Mayor Ms. Meuli and SGA President and senior student Frida Terazzas '21.
To follow the event virtually and join the celebration, tune in on a livestream on Saturday, April 17 at 4 p.m. (CEST) / 10 a.m. (US EDT) on our YouTube channel.