Speaking multiple languages is not a rare skill at Franklin, but one particular student's dedication to the craft stands out. Marina Lorenzini, a class of 2016 Art History major with minors in History and Italian Studies, is combining her personal passion for learning languages with her studies at FUS and future career goals. Recently, Marina was not only featured in the popular blog LaPolyglotte, in a piece titled "A closer look at Levantine Arabic with Marina", but also participated in the 2015 Polyglot Conference in New York City. There she attended talks by today's most respected polyglots and linguistics scholars.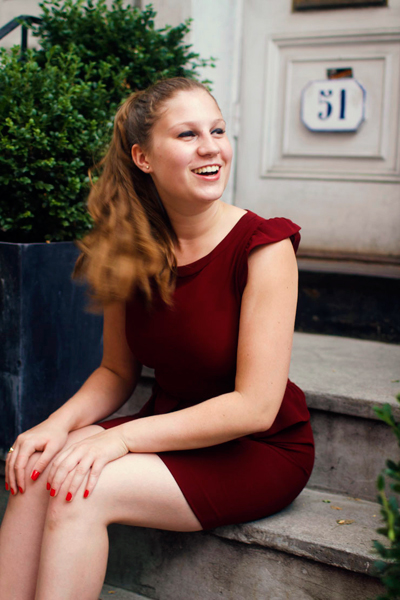 Besides her native English, Marina speaks advanced Italian and intermediate German and Arabic (MSA and Levantine Dialect). However, her passion for learning languages began in high school while learning Latin, which she continued during her study abroad semester in a course translating Cicero's philosophical work, De Natura Deorum. "When I began learning Latin, I discovered the grammar and vocabulary as a code that I could use to unlock patterns in romance languages and linguistics", Marina explains. While all the languages in question do not seem to be particularly connected to each other, they are connected to her future academic goals: Marina is in fact considering a Master's degree in either the Ancient or Modern Middle East, hoping to eventually work in the art market.
As for the Polyglot Conference, which included attendees from Poland, Germany, Canada, Ecuador, and Israel, Marina says she greatly enjoyed both the lectures and getting to meet and connect with many like-minded individuals. "I got to practice Arabic and dive into socio-linguistics topics more profoundly. What really impressed me, however, was the speakers' and attendees' acute knowledge of how language-learning can transform our communities and the world at large" she explains.
According to Marina, learning languages well requires "connecting deeply with native speakers," something she certainly has access to at Franklin. "Meeting people from varied language backgrounds at Franklin gave me the courage to challenge myself as well as realize how necessary it is to be multi-lingual in our globalized world. Language learning is also about intercultural competency and engaging with the complexities of the history and current events pertaining to the target language's region," Marina explains.
And how about learning additional new languages now? Marina said she first wants to work on improving her Arabic and German, which she would like to bring to an advanced level of proficiency in the next two years. She did admit though that she does have a few languages in mind for the future: "Probably Farsi or Turkish."
Check out the polyglotteblog.com's article on Marina at www.lapolyglotte.com/2015/08/a-closer-look-to-levantine-arabic-with-marina.
For more information about the Polyglot Conference please visit www.polyglotconference.com.
For more information on language learning at Franklin see Majors and Minors.