As Franklin continues to grow, and its student and alumni network becomes larger, so do its partnerships with other colleges and universities. The beginning of this semester marked the signing of a new Memorandum of Understanding (MoU) with Lycoming College in Williamsport, Pennsylvania – one of the oldest liberal arts colleges in the US.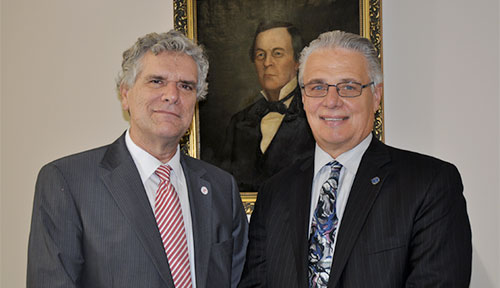 The intent of the MoU, signed a few weeks ago in Williamsport by FUS President Greg Warden and President Kent Trachte of Lycoming College (pictured above), is to provide an opportunity for Lycoming business students to come to Switzerland and benefit from Franklin's international outlook and approach on global business and business management education. According to President Warden, this partnership marks another milestone in getting Franklin and its students engaged with people and places from all over the world. "You can't have too many opportunities," he explained.

Along with this partnership, Franklin also has MoUs with USC, SMU, Lasell College in Boston, and Maryville College. The University is also a member of the Global Liberal Arts Alliance (GLAA), an alliance with 28 member colleges and universities whose mission is to strengthen education in liberal arts institutions by providing several programs and opportunities for students to enrich and diversify their education and degrees. The alliance focuses in particular on providing a multi-institutional education, with students spending each semester in a different institution, and often in a different part of the world, finishing their studies with a "global" liberal arts degree.

Membership in this alliance, as well as all of the other partnerships in which Franklin is engaged, is designed to strategically increase Franklin's "critical mass" in terms of what it offers to students, President Warden explained. "The reason we're doing partnerships is because we're so small," he explained. After arriving at Franklin, President Warden committed to ensuring that FUS students are provided with increasing opportunities to deepen their knowledge. "Do we have enough of anything, really? Do we have enough opportunities for our students? Do we have enough majors? Do we have enough courses? The answer to that is yes and no. Yes, we have enough, but wouldn't it be good to have more?" In this sense, the partnerships work to expand FUS and its mission and values. On the one hand, students from other institutions arrive and diversify the Franklin campus even more than it already is; on the other hand, the partnerships give Franklin students the opportunity to go out into the world and round out their education, possibly focusing also on areas Franklin does not currently specialize in.

With all of Franklin's currently existing partnerships, and those currently being looked into, the university, and its name, values, and mission, are constantly being projected out into the academic community, attracting new opportunities and new students, and keeping Franklin growing. As for the Lycoming partnership, the hope is to see many Lycoming business students joining FUS students in the classroom soon, taking advantage of the international curriculum Franklin has to offer – and vice versa.