This spring a selection of student artwork was featured as part of an exhibition entitled A Banquet of Metamorphoses in the Galleria di Storia Naturale in Perugia, Italy. The installation was part of Professor Clarice Zdanski's "Studies in Ceramics: Northern and Central Italy" an Academic Travel course that adopts a hands-on approach to learning about the methods and history of Italian ceramics.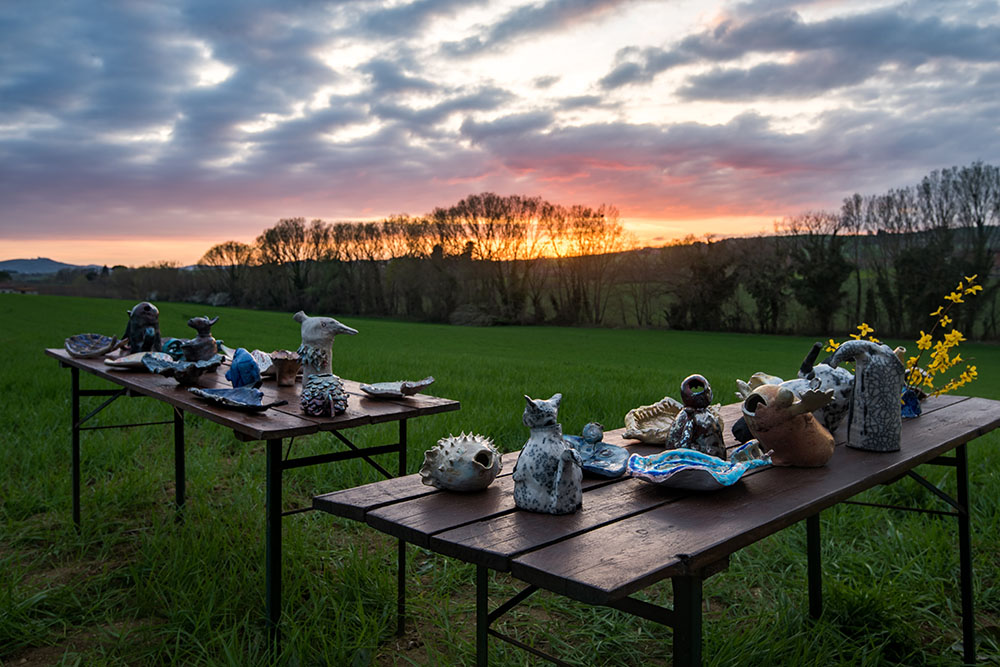 Lectures and preliminary pieces crafted on campus prepared students for the history and practices that they witnessed in central Italy, in particular at the Museo Internazionale di Ceramica in Faenza, one of the world's largest collections of ceramics. At the same time, studio work introduced them to hand building techniques in clay modeling. This work served as a prelude to the more ambitious work undertaken at La Fratta Art house and the nearby natural history museum. At the end of the travel, it was mounted as an installation that explored the diversity of nature through the terracotta creations.
"We have established a good relationship with the University of Perugia's museum in Casalina… this year we were given the opportunity to have a show right away," said Professor Zdanski.
Professor Zdanski has led the Academic Travel course since 2008. At that time, it was a one-credit travel with the core focus on making and studying art in Umbria. The course has grown since then as Professor Zdanski now aims to create the opportunity for students to study ceramics with a richer understanding of the practice. Students are able to learn about all phases of making terracotta objects, from modeling to firing and glazing techniques, thus further enhancing their skills.
Students came away from the course with a greater appreciation for their work. Daniela Baiardi '19 commented, "I really got a deeper understanding about ceramics with the intensive workshops. Moreover, it was refreshing to be in the countryside of Umbria, an environment that allowed me to focus my creative energy and work."
This course provides a comfortable learning environment on campus and in Italy through intimate workshop settings. Professor Zdanski tries to do something different each year to enhance each Academic Travel class' experience. Zdanski notes, "The goal is to give the students a wide range of artistic experience and to introduce them to the world of ceramics, both in a functional and sculptural way."
Read about A Banquet of Metamorphoses in the course booklet.