Andrew Bunker, class of 2017, double major in International Economics and International Banking and Finance, was recently accepted to the Levy Economics Institute MS Graduate Program in Economic Theory and Policy.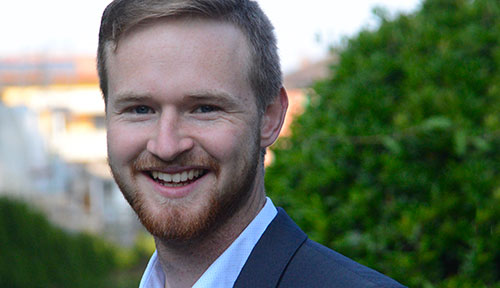 "Part of why I am attending the Levy Institute is the fact that the intimate learning environment and rigorous curriculum reminds me of Franklin. Franklin's Economics faculty incorporated a high level of diversity of thought in the curriculum that is found in only a handful of undergraduate programs."
Andrew began his studies at Franklin as an Environmental Science major, but due to Franklin's flexible liberal arts curriculum, he was able to explore topics outside of his major. Through exposure to other disciplines, "I was drawn towards economics and continued my coursework in Environmental Science and Applied Mathematics for my minors."
Franklin Economics faculty were also key in guiding him towards his graduate studies. "Franklin's accessible faculty provided invaluable mentorship during and after my studies that led me to three robust programs at the University of Zürich, The New School and the Levy Economics Institute. With small class sizes and the very social atmosphere at Franklin, faculty members are an excellent resource in sharing their depth of knowledge and perspective in your own personal pursuits."
Although only in his first weeks at the Levy Economics Institute, Andrew is focusing on furthering his knowledge of financial economics and economic development "in pursuit of a research career to better inform public policy. With economic problems and crises of varying natures around the globe, it is an exciting time to be a part of an international network of scholars engaged in pragmatic policy research. I am grateful for my experience at Franklin and the subsequent opportunities that my intercultural and academic competencies have allowed."
After graduating from the Levy Economics Institute, Andrew plans to pursue a Ph.D. in economics or sociology, focusing on public policy to reduce economic anxiety.