Starting fall 2020, Franklin University Switzerland will launch the Zurich Program, a new opportunity in Zurich that provides a site for study and research for FUS students and students from other universities in one of the most important economic and cultural centers of Europe.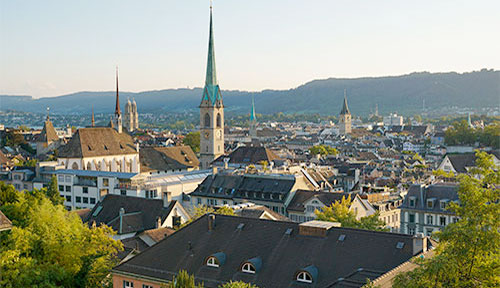 The semester-long program, taught entirely in English, offers experiential learning and cultural immersion through classroom activities, excursions, fieldwork, lectures by local experts, hands-on engagement and dedicated research. Fall 2020 consists of three consecutive topic modules: Urban History, Sustainable Business and Management Practices, and Visual Cultures. Additionally, students interested in deepening their cultural immersion can take classes in German or French on all levels, taught in an innovative and flexible format. These modules and classes will be accompanied by a directed research seminar.
According to Caroline Wiedmer, Professor of Comparative Literary and Cultural Studies, and Director of the Zurich Program, "Zurich serves as both a pedagogical venue and an exemplary laboratory for the study of central concerns of (post)modernity. Like Switzerland itself, the city is located in the middle of Europe and, with its robustly globalized business environment, its cutting-edge artistic practices and its high proportion of foreign residents, it offers an exciting and dynamic learning environment."
For more information about the program, curriculum, and to apply, check out the new Zurich Program section of the website, or get in touch with This email address is being protected from spambots. You need JavaScript enabled to view it. with any questions you might have.