Franklin University Switzerland has created a unique alliance with the United Nations Institute for Training and Research (UNITAR). Starting fall 2019, the new Master's program in International Management will offer an emphasis in Responsible Management and Climate Action allowing students to learn and work with UNITAR to help implement the 2030 Agenda for Sustainable Development.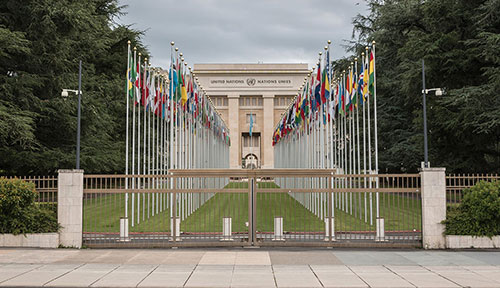 According to Corinne Young, Director of Graduate Studies at Franklin, "The new model provides students with more impactful learning experiences to become responsible decision makers and change makers in the world in which we live today, and to have the skills that make them employable."
Next fall, students will have the chance to immerse themselves into a full-time, one-year program, first on the FUS campus focusing on "courses to develop skills such as collaborative leadership to working across sectors," explained Jonas Haertle, Project Leader at UNITAR, "followed by a second semester at the UN in Geneva taking e-learning courses developed by UNITAR and other UN organizations on climate change."
The pathway will culminate in a six-week capstone project working with leading UN professionals as well as entrepreneurs, business executives and other leaders. "Students will work in teams to practically help solve some of the challenges that their UN 'colleagues' are facing when it comes to engaging the private sector on climate change and sustainable development goals."
According to the 17 Sustainable Development Goals countries need to promote prosperity while protecting the planet. "Thanks to this new pathway, students will be prompted to solve complex global challenges for a more sustainable world not just by learning, but also by benefiting from analytical and capacity-centered solutions," noted Haertle.
In this sense, the new Master's program will not only offer a unique and practical component, but it will also "inspire students (future leaders) to expand their boundaries in order to replicate what they have just experienced at the UN on a global level to any organizational context, on a more local level," Haertle stressed. These are indeed the kinds of credentials that employers are looking for in professionals working on climate change issues.
In addition to the new emphasis in Responsible Management and Climate Change, the Master's in International Management has an emphasis in Digital Transformation.