Living out of a box on wheels can really change the way you see the world, and Samuel Miller, Class of 2017, from Philadelphia, Pennsylvania, knows this better than anyone.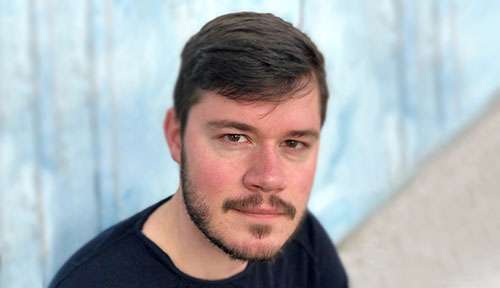 Today, Samuel is a freelance writer and photographer based in Lisbon, Portugal, where he is also pursuing his Master's degree in Management of the Arts & Culture at the Universidade Católica Portuguesa. But coming from an expat family, he has spent the majority of his life, both before and after Franklin, moving and traveling around the world.
His Swiss journey started with his four years at Franklin, where he graduated cum laude in History with minors in Art History and Political Science, and where he met his fiancée, also a Franklin graduate. "Right after graduation, I called up contacts asking if any of them had leads on jobs, and fortunately got lucky. A private school in Dallas, Texas, was looking for an internationally educated school teacher to run their new program for refugee students so, sight unseen, I left Switzerland and headed out there."
As time passed by in Texas, and on top of his responsibilities shaping the refugee student program, he ended up teaching math to 3rd graders, science to 8th graders, and formal logic to seniors. These subjects weren't really his area of expertise but, as he remarked, "my Franklin education was what allowed me to adapt and learn on the job; it really made my time there successful."
Thanks to the truly global Franklin Alumni network he was also offered a position as a freelance copywriter at a Franklin alumnus' company in Dallas, "a job that I continue to do 2 years later, and which ended up kick-starting my freelance career." Today, Samuel also contributes articles to Newly Swissed, a popular online magazine about Switzerland, covering Swiss culture, design, food, events and tourism, among other publications.
During his time in Texas, Samuel kept his eye open for new job opportunities in Europe and, thanks to a contact in Basel, talked his way into an interview at a blockchain technology company based in Zug, Switzerland's Crypto Valley. Due to his language skills, he was initially hired to do some German to English translation work and English copywriting but, through connections made at this company, went on to work remotely for a blockchain focused marketing and consulting firm in Liechtenstein. "Over the next year I was able to work my way up through the company, eventually landing as the Communications Manager, a full-time remote position working with start-up projects in a variety of fields from all over the world, and managing my own remote network of freelancers. The flexibility of this position also enabled me to go back to school for a graduate degree, but only after I spent several warm months in California, Miami, and Brazil living the digital nomad life."
Samuel is now based in Lisbon, where he is finishing up the first year of his Master's program in Cultural Management. On top of the academics and communications work, he is also building a start-up with a team of international colleagues to help connect people in Lisbon with the burgeoning Urban Art scene there, as well as continuing to grow his network and personal brand as a writer and photographer. "I'm incredibly lucky to have such a busy and fulfilling life at the moment, and I'm grateful for my time at Franklin since it really helped me get where I am today. My long term goal at the moment is to continue to work internationally as a creative free-agent, specifically in cultural entrepreneurship."
Samuel exemplifies how the Franklin experience develops alumni who are socially aware, successful even out of their comfort zone, and cosmopolitan, able to thrive anywhere in the world. As he remarked, "Franklin provided us with an excellent education, and most importantly with those soft-skills that many of our peers from other schools haven't developed. Having to work, live, and empathize everyday with people who speak other languages, and come from very different cultures can be a difficult thing to learn and appreciate. Franklin does an excellent job at teaching students how to thrive in these environments… oh, and also how to fit your whole life into a suitcase!"