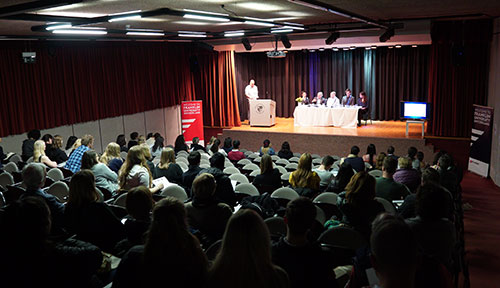 Since 2014, Franklin has organized an annual event known as University Day. Initially created to celebrate accreditation as a university institution in Switzerland, University Day has grown into a platform for highlighting new and ongoing initiatives that can inspire the Franklin community with innovative ideas, new projects and research opportunities. For example, in April 2019, our theme was "Innovating for Change." It featured special activities for graduating seniors, a Sustainability Club luncheon, and a two-hour showcase of unique ideas, projects, and opportunities presented by our students and faculty.
This year, to respect the impact of COVID-19 and keep our community safe, the event will be adapted to a virtual format.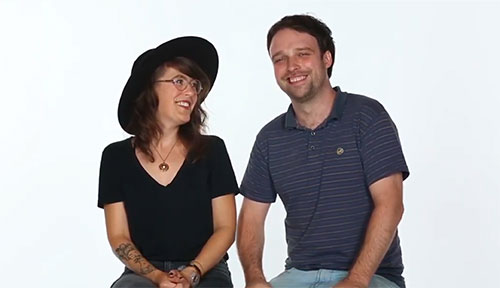 On Wednesday, April 8, Franklin will proudly present University Day 2020: #FranklinWeStand with a focus on the role of the arts in our communities, both real and virtual. FUS is delighted to feature alumna Karen Cooper '06, along with her co-director and co-producer Kevin Rumley, and their latest film, No Alternative, an independent documentary about Switzerland's art-maker spaces. The film takes viewers to 11 creative spaces across French-speaking Switzerland, examining what makes each space unique, while also addressing the larger issues that unite them all: the fight for freedom in art, access to locally-produced collective culture, and alternatives to consumer-based lifestyles. It inspires discussion about the importance of liberty, community, and expression in our lives.
University Day 2020: #FranklinWeStand
April 8, 2020
Good After Covid19
Following the success of the first #goodaftercovid19 conversation in live streaming, we are excited to open up the second installment to the Franklin community as part of University Day. How could things actually be better after COVID-19? Find out on April 8 at 2:15 p.m. CEST, as #goodaftercovid19 shines a light on the "best practices" emerging right now. Thought leaders from around the world will share which values and behaviors they believe are vital to nurture if we wish to ensure a future that serves us all.
For more information see Good After COVID-19: Inspiration from Crisis.
Registration for this event is required. See the event page to register.
No Alternative Documentary
FUS community members will have the opportunity to join the premiere screening for Ticino of No Alternative on Wednesday, April 8 at 4 p.m. CEST. This will be followed by a moderated Q&A with the filmmakers at 5 p.m. CEST, in which participants can also join. Participation is by invitation only. On Wednesday, students, alumni, faculty and staff will receive an email with information on how to view the film and join the Q&A. Watch for it!
We look forward to the participation of the entire Franklin community, from Lugano and from all over the globe, in our first Virtual University Day. Join us for what promises to be a wonderful, community-building experience and don't forget to share your Virtual University Day experience with us on social media, #FranklinWeStand.
About the Filmmakers
Karen Cooper '06
Karen is the co-writer, co-producer, and co-director of No Alternative. She was born in South Africa, grew up in Southern California, and attended Franklin University Switzerland, where she graduated Magna Cum Laude in 2006. She returned to the United States (NYC) in July 2015 to further her career in media production, marketing, and communications.
While living in Switzerland, she was part of the Lampad-r art collective in Neuchâtel. She was inspired by the group's vision to explore the Swiss alternative art movement in greater detail (in collaboration with Kevin Rumley) for No Alternative.
She now works remotely, freelancing in media production, marketing content strategy, and copywriting for a mix of American-based and international companies. Visit Karen's profile on LinkedIn to learn more.
Kevin Rumley
Kevin is the co-writer, co-producer, co-director, and director of photography of No Alternative. He has always loved filmmaking and has a particular passion for short films and documentaries. After studying film at the SAE Institute in Berlin, he worked for a variety of production houses on different projects in Paris and Berlin (Weltenangler, M6, MTV), before becoming a freelance filmmaker.
In 2015 he decided to travel the world for three years while directing and producing personal documentary projects. He also joined Collabfeature, and directed the award-winning feature length film Train Station, in collaboration with 40 other directors from 25 different countries.
Kevin has put his travels on hold (for now) to found his own production and distribution company in Switzerland, Doc'It Yourself, and has multiple collaborations in the works for future projects.