As part of the 50th Anniversary Film Series, the University looks forward to proudly presenting the exclusive Swiss premiere of "Albert Frey: The Architectural Envoy - Part I" this coming November 13, organized in collaboration with the Virginia Tech Steger Center for International Scholarship in Riva San Vitale.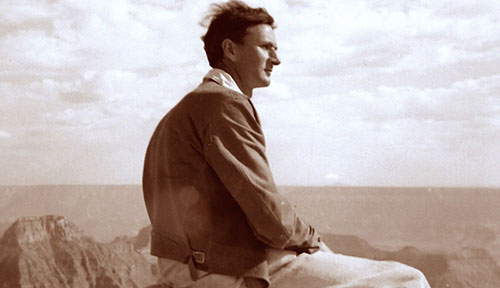 The first of a two-part film series produced by Design Onscreen, this film explores Frey's early life and work in Europe to his New York architectural accomplishments in the 1930s, including the famed Aluminaire House, the Canvas Weekend House, features of the New York Museum of Modern Art, as well as his Kocher-Samson Building in Palm Springs.
Containing never-before-published archival imagery, as well as breathtaking architectural footage, and featuring a cast of notable interviewees, including architecture critic Paul Goldberger and historians Joe Rosa, Michael Schwarting, Frances Campani, Alan Hess, Sidney Williams and others, this is a film premiere not to be missed.
Right after the 63-minute screening, President and Professor of Archeology Greg Warden will moderate an in-depth discussion about Frey's significant role in the history of modernism in the U.S. prior to World War II, with panelists Johanna Fassl, Fabio Ferrari and Markus Breitschmid.
A Zurich-born architect, Frey received his architecture diploma in 1924 from the Institute of Technology in Winterthur. During his studies, he focused more on traditional, building-orientated aspects of architecture, rather than conforming to the Beaux-Arts movement of the time. After working on projects across Switzerland and Belgium, he came to the forefront of modern architecture when he took on a position at Le Corbusier's famed Paris atelier. This gave Frey the opportunity to work on Villa Savoye – a building formulated on the fundamental principles of modernist architecture.
Moving to New York in 1930, Frey was the first Corbusier disciple to work in the U.S. and became partners with architect A. Lawrence Kocher, who was also managing editor of Architectural Record magazine. Together they published numerous articles on urban planning, the modernist aesthetic and technology. Kocher and Frey also designed four buildings, including the acclaimed Aluminaire House, the first metal pre-fabricated house designed for the Exhibition of the Architectural League in New York, 1931. His first contact with Palm Springs came in 1934, when it was said he fell in love with the area, and permanently resided there from 1939 onwards.
From his European beginnings, Frey developed a unique architectural brand, one that would redefine mid-century California through sleek, leisurely structures nestled among the arid landscapes of Palm Springs and beyond.