As Franklin continues to grow, and its student and alumni network becomes larger, so do its partnerships with other institutions and organizations. The beginning of the new year marked the signing of a new membership with AACSB International (AACSB), the world's largest business education network that connects students, academia and business to foster engagement, accelerate innovation and amplify impact in business education.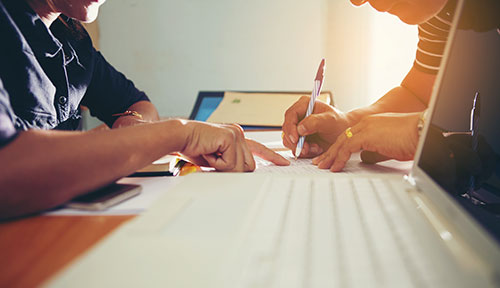 Founded in 1916, AACSB connects its 1,700+ member organizations to a world of innovative educators and business leaders to remain current in education trends. "AACSB members are committed to learning from, and moving forward with, one another. With AACSB, your voice is heard throughout the global business education community, providing a platform for your unique perspectives, insights and aspirations," noted Carlo Giardinetti, Dean of Executive Education and Global Outreach at Franklin. AACSB accreditation standards and quality assurance/improvement programs are indeed designed to help schools discover and deliver on their differentiated mission to foster meaningful change through engagement, innovation and impact.
Notably, the FUS mission is aligned with the vision, mission and values of AACSB. In particular, both have a vision for a future where business schools and universities are the drivers of change for global prosperity and social responsibility. Over the past five years, under the leadership of Dr. Corinne Young, Director of Graduate Studies at Franklin, the MSIM curriculum continues to increase its value because its development is centered in AACSB standards and models. As she remarked, "Franklin is committed to the AACSB model for 21st century business schools, "A Collective Vision for Business Education."
From accreditation to business education intelligence, exclusive events and forums, AACSB strives to continuously improve engagement among business, faculty, institutions and students to align business education with the needs of business practice. "Our association with AACSB and the journey toward accreditation will support Franklin in living its purpose at the crossroads where liberal arts meet business and management," observed Dean Giardinetti.