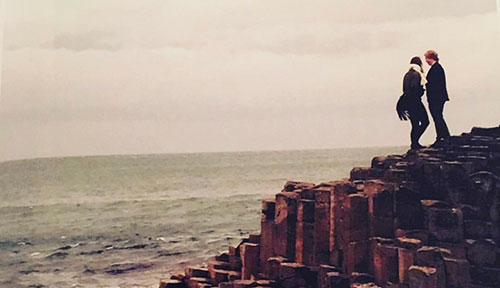 Today, we highlight a special Franklin couple, the unstoppable duo that is Matthew Farley (SMU '17) and Hanna Wiedenhoefer '17. These two are an inspirational example of a young, successful couple. Both are creative go-getters who take challenges and opportunities in stride, supporting each other through it all. Matt, an SMU study abroad to Franklin, explains how it began.
"I attended Franklin for the fall semester of 2015. Hanna Wiedenhofer and I had one class together, which happened to be our travel class: 'Arts, Politics, and Landscapes of Ireland' with Professor Gee. We spent the first half of the semester as friendly acquaintances. When it came time to head to Ireland for two weeks, we ended up sitting next to each other on the plane ride there. It was an early morning flight, so we didn't talk much. But we clinked our Swiss Air chocolates as if they were champagne glasses as a toast to the trip ahead. Once in Dublin, we started spending more time together. The combination of chilly weather, Irish whiskey, and a beautiful old city set the stage for us to get to know each other. By the time we were heading back to Lugano, we were in love."
As Matt's semester abroad came to an end, they decided to make it work, seeing each other just once a semester for their last 3 semesters. All their sacrifices over that year and a half paid off. After she graduated with her degree in Art History & Visual Culture and a Minor in Communications, Hanna moved out to Dallas to be with Matt, who had just graduated from SMU with a double major in Business Marketing & Music/Vocal Performance.
Since then, Matt has started his own firm, Symphony Digital Marketing, of which he is "the only employee... for now." Hanna became the manager of SculptHouse Dallas, a fitness studio and athletic wear boutique spanning 5 locations in 4 states. More recently, Hanna was asked to manage their flagship SculptHouse location in Atlanta. She says, "Since Matt works from home, he can continue to grow his business no matter where we are. We're both excited to be in a new city and are looking forward to brand new adventures together!"
Read the full story in the Alumni Series by Samuel Miller '17.