This past April Franklin welcomed a delegation of high school students to participate in a cross-cultural academic experience on campus, where both students and faculty engaged in conversations surrounding media and communications, as part of Franklin's annual Academic Summit series organized by the Office of Admissions.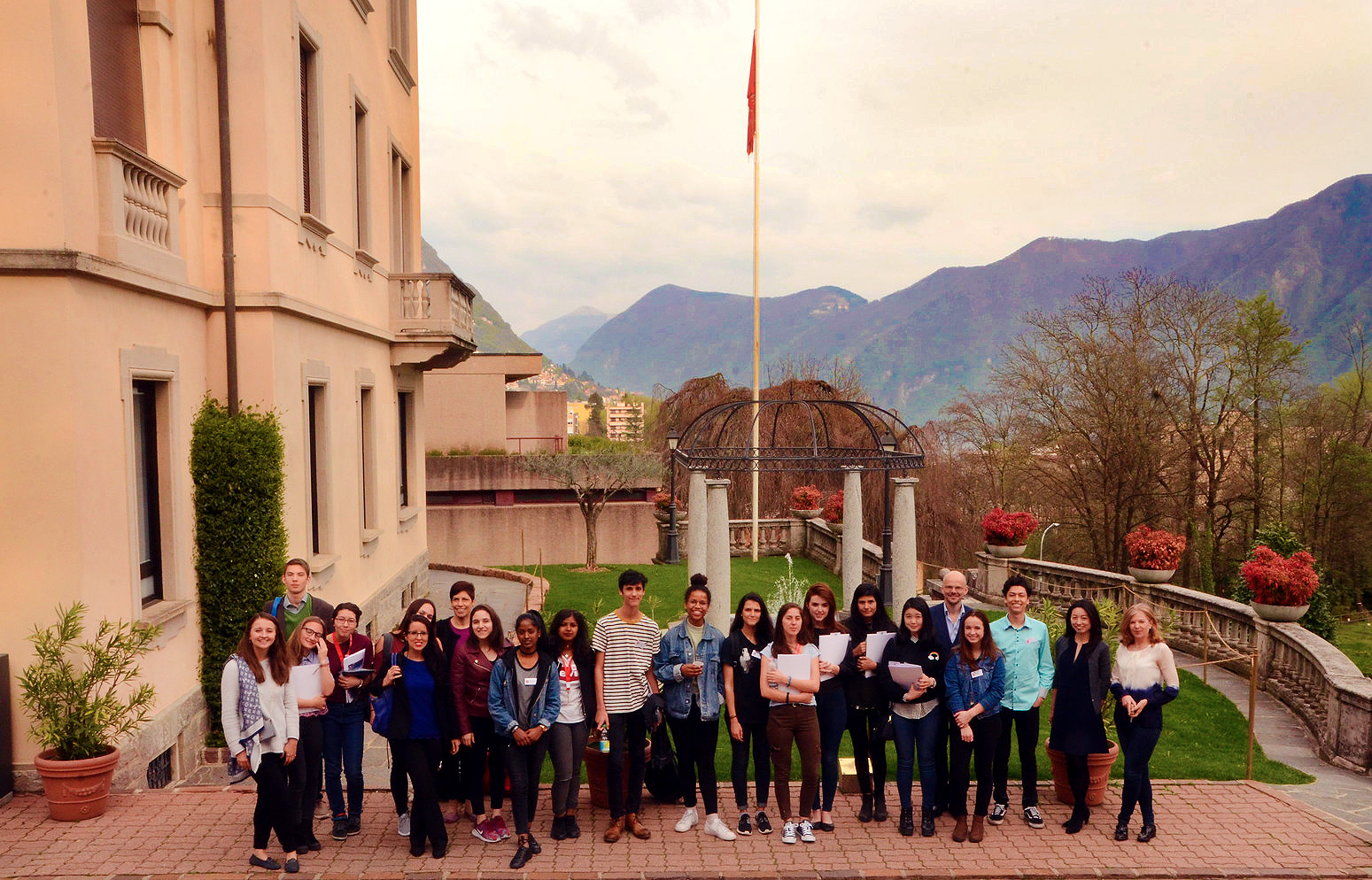 Following an intercultural exchange with student mentors over lunch, the group moved to the LAC Conference Room where they were welcomed by Dean Sara Steinert Borella and introduced to three discussion topics led by faculty, in order to engage in an active conversation taking advantage of the diverse students' background.
Johanna Fassl, Associate Professor of Art History and Visual Communication, made a very creative use of optical illusions and image interpretations to approach the theme of visual communication throughout history, starting from the Renaissance period up to the more abstract art period of today. Students were encouraged to share their interpretations in various descriptive exercises which highlighted the plethora of messages that visual art is able to convey.
The second session was dedicated to the ever-growing relevance of emojis and relative stickers, presented by Associate Professor of Communication and Media Studies, Satomi Sugiyama. Students compared their use of emojis across various social media platforms and observed differences relating to age and cultural associations.
Lastly, Marcus Pyka, Associate Professor of History, discussed national representation and the historical importance of the Eurovision Song Contest, by combining historical and media studies perspectives.
The academic portion of the weekend concluded with an energetic and in-theme voicing of hashtags, where students and faculty had to define which best represented them throughout the summit. Among them #criticalthinking, #diversity and #hiddenmeanings, seemed to perfectly encapsulate the summit's goal.
As noted by Professor Fassl, the Academic Summit helped give the students a sense of community. "They're thinking and that's what we do at Franklin - small classroom situations, seminar style with interaction. They seemed to immediately jump into it so that was really nice to see," said Fassl. And yet, such experience served as a great example of how Faculty can really be interdisciplinary.
As remarked by Professor Pyka, "This is the fun of it, we learn from our colleagues unashamedly."
Right after a campus tour, high school students had the opportunity to have a group dinner with other Franklin students at the campus Grotto, where conversation flowed easily touching upon topics such as travel, academic interests and living in Lugano.
According to high school student Mournis, from Neuchâtel, the topics of the summit were very interesting. "I particularly liked the first session because it provided me with another perspective of how I see things, and the emoji one touched upon elements I'd never thought about," said Mournis. "I didn't know much about Eurovision so it was very interesting to see the political aspect of it as well."
As remarked by Kevin and Rosa, two U.S. high school students currently studying in Germany, it was quite impressive to observe the international student body and professors. The summit helped them "put together the pieces of the puzzle" by providing a broader perspective and understanding of the importance of image communication.