Welcome to the Division of Environment, Math, Psychology and Health.
The Division of Environment, Math, Psychology and Health (EMPH) houses expertise and academic programs in the natural and health sciences and mathematics. Aligned with Franklin University Switzerland's mission, it combines classroom learning with field experiences to produce students well-equipped to become change-makers in their chosen careers, with the skills and competencies to take on major problems facing the world and society. Offered majors provide students with a strong background in fields that support our understanding of the world's environment, the mind and the challenges we face.
Animated by a notion of the Liberal Arts that builds bridges between the theoretical and the practical, the creative and the analytical, the academic and the experiential, the EMPH courses are interdisciplinary in their approach and rigorous in their methodologies, preparing students to envision innovative solutions for real-world challenges.
The EMPH professors are experts in their fields and generously share insights from their research, artistic and cultural practices. Experiential and creative learning is one of the hallmarks of Franklin, offering a personalized and supportive learning environment to guide students through their academic path.
Students with degrees from EMPH will be prepared to enter graduate and specialized studies. Professional outlets are pursuing careers in the environmental field within business, consulting, government, and non-profit organizations, as well as in programs for sustainable development, international health, business administration.
The EMPH encompasses four main core disciplines:
ENVIRONMENT (ENV)
Our Environmental (ENV) program emphasizes field experiences to educate students about the challenges the world faces with environmental problems and enable students to develop solutions to create a greener future. We offer two specific majors, a BA in Environmental Studies and a BS in Environmental Science. Additionally, we offer an option of a combined major and a minor in ENV.
MATHEMATICS (MAT)
Our program in Mathematics (MAT) seeks to ensure that students develop a strong foundation in quantitative skills regardless of a student's chosen area of study; it also supports those students who wish to obtain a more advanced level of quantitative reasoning. We provide Franklin's quantitative reasoning core, as well as the minor in MAT.
PSYCHOLOGY (PSY)
Our program in Psychology (PSY) educates students about human behavior, emotion, thought, and how these factors influence individuals and society. It provides a preparation for graduate study in psychology and supports future careers in education, business, social work, or other health-related professions. We offer a major, a combined major, and a minor in PSY.
PRE-HEALTH SCIENCES (PHS)
Providing a curriculum that supports students interested in pursuing graduate studies in one of the many health-related fields, the EMPH Division offers the parallel curriculum of PHS to its students. In particular, PHS complements the ENV and PSY majors well and can be combined with these majors. To support this new venture, the Division has upgraded existing laboratory facilities and entered into a partnership with the University of Colorado School of Medicine.
Research and Initiatives
Professors Publish Collaborative Book on Collapse Discourse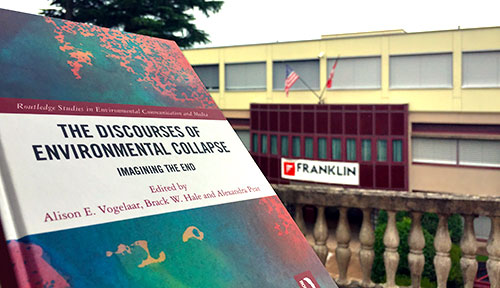 Professors Alison Vogelaar, Brack Hale, and Alexandra Peat publish timely volume, The Discourses of Environmental Collapse: Imagining the End
Read more
Publication Highlights
BW Hale. (2018). Mapping potential environmental impacts from tourists using data from social media: a case study in the Westfjords of Iceland. Environmental Management, 62: 446-457. Available at: https://rdcu.be/NHIT.
BW Hale, P Della Croce. (2015). In Everyone's Backyard: Examining the intersection between invasive alien species and environmental justice. Intervalla, 3: 26-34.
Della Croce, P., Poole, G. C., Payn, R. A., & Gresswell, R. E. (2017). Detecting Introgression in Fish Populations: When Sample Size actually matters. Fisheries, 42(1), 44-56.
Projects and Activities
ENV Senior Capstone Projects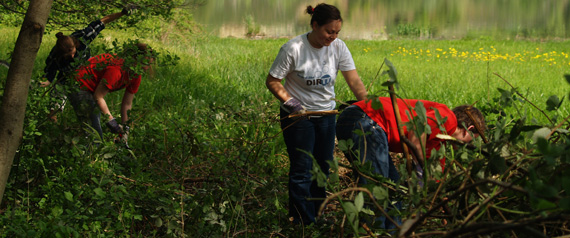 The Environmental Studies Senior Capstone requires students to synthesize the knowledge and skills that have acquired at Franklin in the ENV programs and apply them to a real world project.
The 2019 group was tasked with the development of a climate action plan for Franklin that would allow Franklin to contribute to the Swiss and US commitments to the Paris Agreement and ideally lead to a climate neutral campus in the future. Their report will be available online soon! 
Laghetto di Muzzano
In collaboration with Pro Natura, a major nonprofit environmental organization in Switzerland, students from Franklin have been organizing volunteer days annually since 2007 to remove invasive plant species, such as bamboo and palm trees, plant native shrubs, and pick up trash surrounding the lake. For more information about Pro Natura please visit their website.
The Sustainable Garden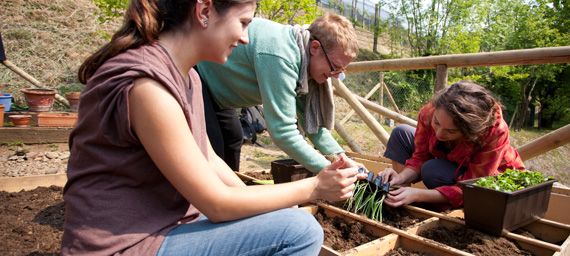 The Franklin Campus Garden Project was one of first initiatives introduced by Franklin's Center for Sustainability Initiatives in 2010. The organic garden is the fruit of a student-faculty collaboration which allows students to grow food on campus and learn about plants and gardening.
Students and Alumni
"Going to Franklin was the best decision I have ever made.  I was totally nervous to move across the world from my comfortable life in California, but the experiences that greeted me when I finally committed and made the move were the most meaningful and joyful times of my life.  I would like to say that I'm thankful for every moment, but "thankful" would be an understatement.  From the incredible academic travel opportunities to walking out of class everyday knowing that I learned something new from my professors, Franklin is truly an unmatched college experience, for which I am very grateful! "
Katherine Gannon, Class of 2018
"I chose to go to FUS because I was excited about the opportunity to engage in experiential learning outside of the classroom, like assessing hiking trail quality in Iceland, or practicing water sampling techniques on Lake Lugano. I loved being part of a close knit campus community and the interdisciplinary nature of the education that it fostered. Being surrounded by other engaged students and having professors who really cared about our progress made my time at Franklin truly amazing."
Yana Smith, Class of 2018
"Of all the universities I applied to, Franklin was the only one that offered a truly unique educational opportunity. The small class sizes and international student body allowed for group discussions full of diverse experiences and viewpoints. Getting to engage with the world, and the people of the world, on Academic Travel is an opportunity that no other university or private tour can match. It's one thing to discuss climate change in a classroom but it's another to visit a rapidly-shrinking glacier in the Swiss Alps. Franklin's professors go out of their way to help students get the most out of their educational experience. Whether it's sitting down together to pick the right courses or working with you for two years on a long-term research project (thanks, Professor Della Croce!), the faculty and staff at Franklin are invested in all of their students. My time at Franklin, especially within the Environmental Sciences department, helped me grow into a more curious, respectful, and conscientious global citizen."
Elena McGuire, Class of 2017
"In my biased opinion, environmental science is one of the most applicable and important fields of study of our time. We live in a time of global environmental change, and by majoring in Environmental Studies at Franklin, you will gain an international perspective on environmental issues that is completely unique. Rather than simply reading about the Rhine River, I got to go on academic travel and actually see where it begins as a glacier in Switzerland and follow it all the way to its delta in the Netherlands. Instead of simply watching environmental documentaries about how climate change will affect low lying third world countries, I got to travel to Bangladesh and find out for myself. These experiences have been invaluable to me personally, and definitely inspired and prepared me for my graduate studies."
Mia Hammersley, Class of 2013
"When studying the science or policy side of the environment it is important to understand technical details as well as the larger picture. There are no silver bullets to solving the challenges we face. The skills I learned at Franklin University have well prepared me for the challenge facing our water landscape. In my course load I received a foundation of science, statistics, and public policy. This allows me to identify what conservation principles and practices are the most successful in a conservation program. The added benefit of being in an international environment also helps as different countries have different systems and ways of enacting policies that I can use in my own local setting."
Michael Thomas, Class of 2011
"When I arrived at Franklin as a freshman, studying Environmental Science was never a part of my plan.  I happened to sign up for a science course to fulfill a general education requirement and instantly became hooked.  The environmental science minor allowed me to discover and then develop my research interests in infectious disease epidemiology; a field that I previously did not even know existed.  I knew that after graduating from Franklin I wanted to take my studies further and I went on to complete a Master of Science in the Control of Infectious Diseases from the London School of Hygiene and Tropical Medicine. Completing the environmental science minor allowed me to discover and then, more importantly, build the skills necessary to pursue a career in the field that I am passionate about."
Olivia Yost (Johns), Class of 2011
"I originally came to Franklin for its location and the opportunity to travel and learn new languages. While I had originally planned to major in Modern Languages, I quickly chose a new course of study after taking Prof. Hale´s Introduction to Environmental Science course.  It was then that I realized that a discipline that had always been of interest to me could be a real career opportunity.  The Environmental Studies program was unique in that I not only was instructed in how to tackle tough questions with a scientific mindset, but also look at the more social aspects of environmental issues.  I believe the interdisciplinary nature of the program has been responsible for my success further in the field."
Kyle Hartman, Class of 2010