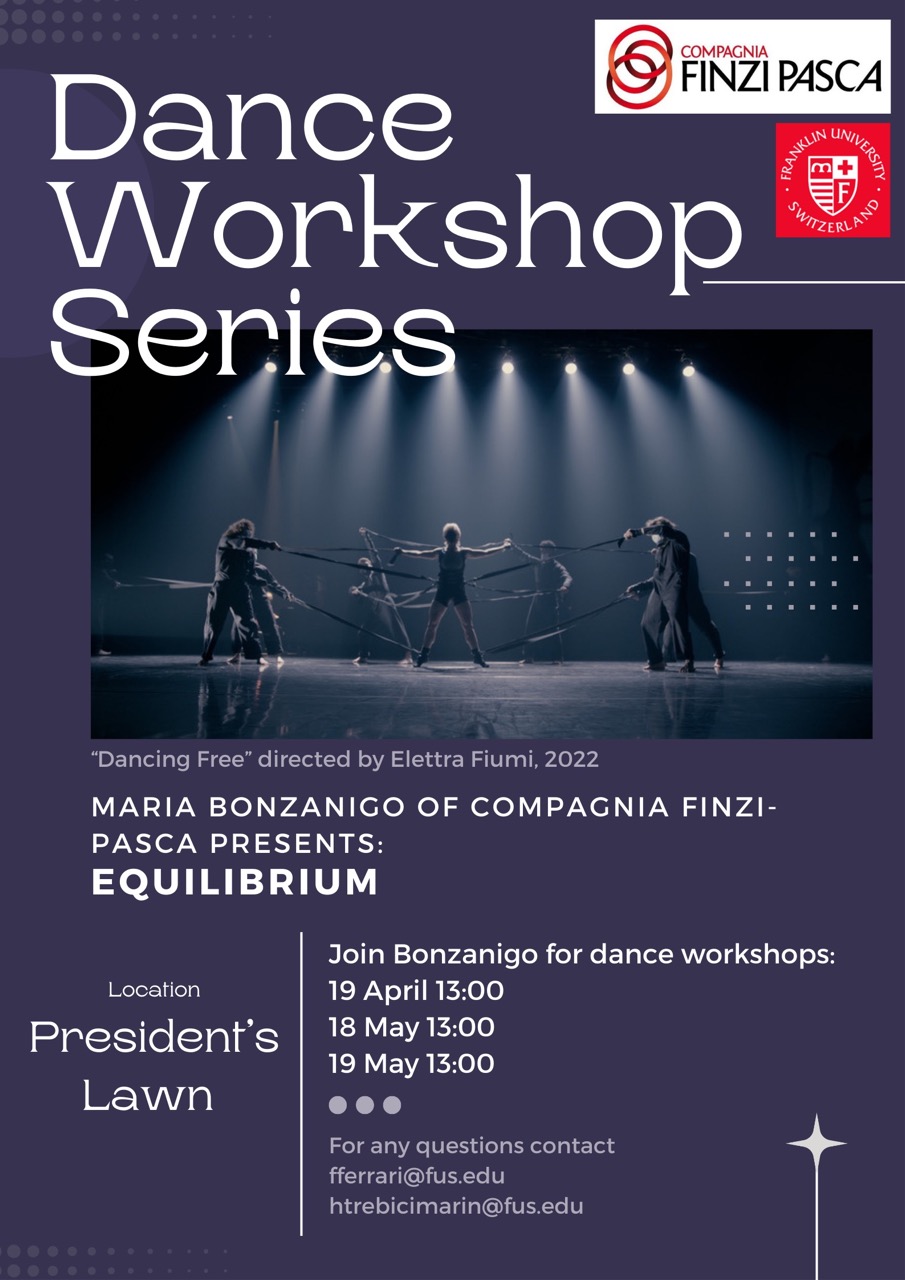 An extraordinary collaboration between Franklin University Switzerland, the Lugano Arte e Cultura (LAC), and the City of Lugano, the Lugano Dance Project provides a unique opportunity to create a positive and lasting impact on both the local and international communities. To date, the project has explored the legacies of early twentieth-century experimental dance rooted in the Monte Verità community and pursued influential practices from the 1950s and 1960s. The project was designed as a platform for exchange and production in contemporary dance through international networks, connecting Switzerland with Europe and North America.
By the beginning of the Spring 2023 semester, the first open dialogue between students, faculty, and internationally renowned Swiss composer-choreographer, Maria Bonzanigo, co-founder of the Compagnia Finzi-Pasca, permanent collaborator of the Cirque du Soleil, and co-creator of an experimental technique called "Teatro della carezza" was held on campus.
2023-24 project
In 2023 spring, Franklin University Switzerland presented three master classes designed for student non-dancers and dancers alike as part of a broader program of dance education initiatives that will build over three semesters. The culmination will be part of the second edition of the Lugano Dance Festival in Spring/Summer 2024 hosted by LAC (Lugano Arte e Cultura).
Swiss composer-choreographer, Maria Bonzanigo designed an open dance workshop, a special project of movement expression for students, which took place during the 2023 University / Day of Giving in April 2023. The theme of the workshop, called "Equilibrium" was connected to Franklin's focus on well-being. Students, faculty, and staff were invited to participate in an afternoon workshop on the President's Lawn following the community's sustainability lunch, sponsored by the Green Office and Senior Class. The goal of the workshop was to explore the intersection of emotional and physical well-being and the equilibrium one can create, as with dance and music.
Two additional workshops of the same nature are planned for May 18 and 19 during graduation week. Students once again will have the opportunity to experiment with contemporary dance in the beautiful setting of Franklin's campus.
Gallery
2022 project
Franklin University Switzerland was the Festival Partner of the Lugano Dance Project, additionally, Franklin was involved in several fields connecting the professional and pedagogical contexts: participation of senior undergraduate Franklin students in the organization and management of festival-related projects; pedagogical accompaniments to the realization of a documentary film by Professor Elettra Fiumi; pedagogical reflections and creative practices including documentation and historical references; the conception of the framework of a social impact report analyzing various aspects of the impact of the Lugano Dance Project on different stakeholders. 
This video has been produced by the students of Professor Elettra Fiumi's 2022 COM 211 class.