While many economics departments at universities in the United States are rushing to develop courses about quickly developing cryptocurrencies, Franklin University Switzerland took a different route by developing its own cryptocurrency designed for students, by students.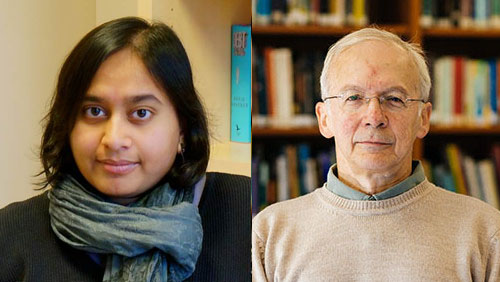 The currency is part of the Franklin Frank Community Engagement Program, a four-year-old initiative launched by Professors Andrea Terzi and Poulomi Dasgupta from the Economics and Finance Department. "Students can earn Franklin Franks by working with local institutions and non-profit organizations in the Franklin neighborhood", explained Professor Terzi, "which are required for certain courses. Students who are unable to perform a sufficient amount of volunteering tasks, can arrange a trade with another student who contributed extra time and possesses a surplus of Franklin Franks."
The transition from paper currency to crypto currency was created by Master of Science in International Management student John Christopher Junod with Thomas McCarthy, a programmer and analyst at Franklin. "Thomas knew I was interested in cryptocurrencies and Blockchain, so I took the idea and ran with it over the winter break with ten students. I got feedback from them and used that for our purposes of installing the program here."

For Nora Alourfi '19, the experiences gave her a better understanding of the workings of currencies and the local community. "The Franklin Frank program helped me understand the nature of currencies in the sense of how and why they gain their value and how they help facilitate the workings of society. Volunteering also provided me with a learning experience that I continue to be faced with during my time at Franklin and beyond: the unfamiliar and new experiences that truly aid in shaping us and furthering our horizons."
Alana Hindiyeh '18, was "very excited to be a part of the crypto currency pilot program and learned a lot about the process of how a currency is turned crypto." According to Zachary Crowell '18, "the program highlights how fiat currencies work. The Department of Economics and Finance acts as the state, and they create demand for the FF currency. By taxing students the department created a need for their currency just like real governments."
Franklin can now boast to have created the first cryptocurrency program on a university campus in Switzerland, which is ideal, as Switzerland is quickly developing as a leader in cryptocurrency.