<! img class="caption" title="TedX Lugano 2016" src="/images/leader-photos/tedx-lugano-2016.jpg" alt="" itemprop="image"/>
Leading Through Compassion
From Germany, to Canada, to Malaysia, to the United States, to Venice and finally to Franklin, Professor Johanna Fassl has made an impact on her students, peers and friends. A professor of Art History and Visual Communications, she has an eye for not only the arts, but humanity in itself.
---
Breaking Down Barriers Through Art
At the start of the Fall semester, Professor of Art History and Studio Art, Clarice Zdanski, had the opportunity to attend the International Socially Engaged Art Symposium (ISEAS), an invitational event in Rassepori, Finland.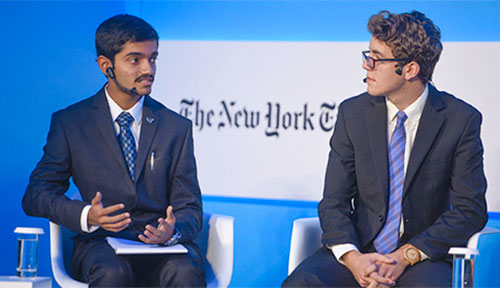 Franklin Student Ventures to the Birthplace of Democracy
Originally from Mumbai, India, Nitish Sudhir Soundalgekar '19 was selected to participate in the prestigious New York Times Athens Democracy Forum held September 13-17, 2017.