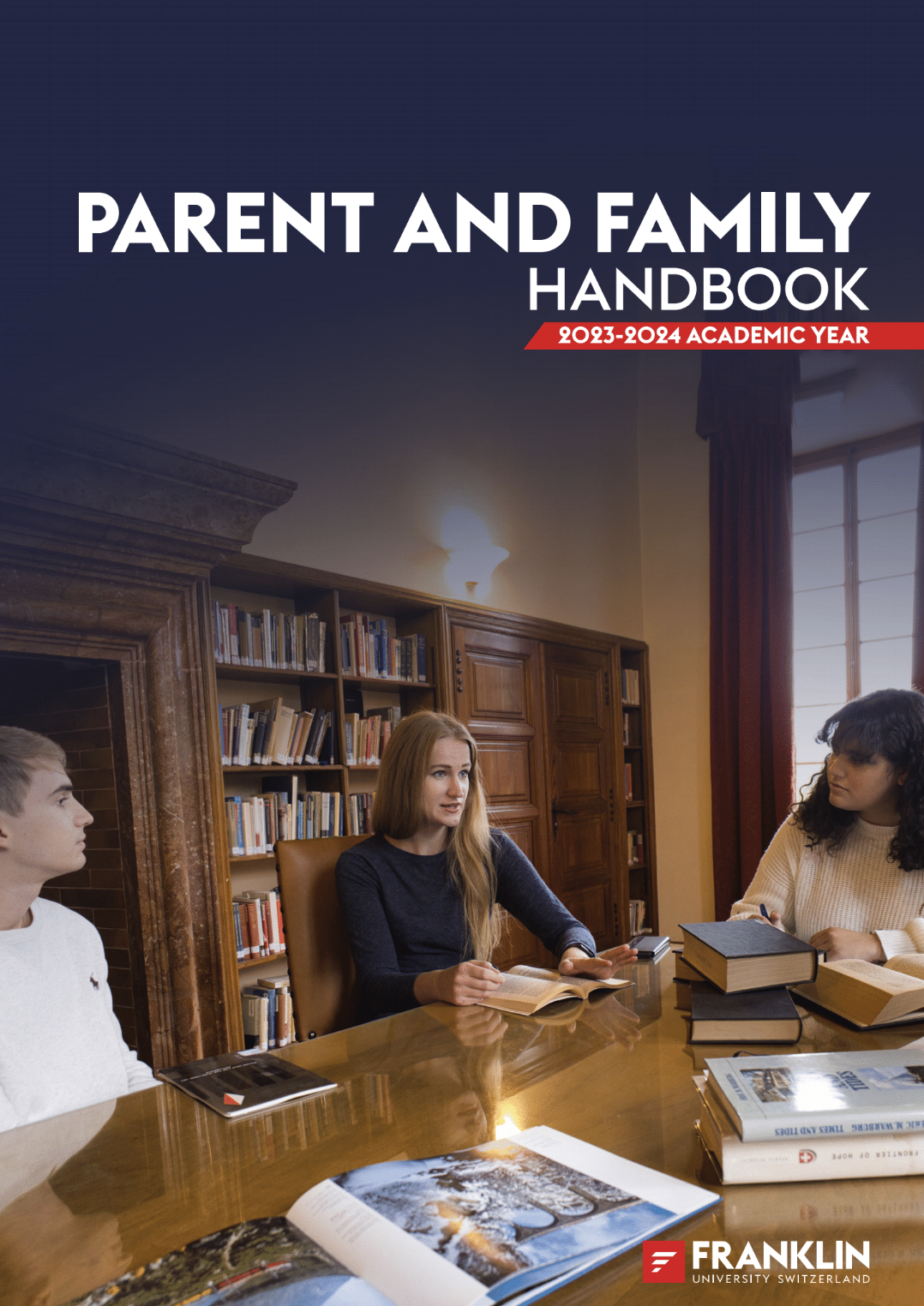 Welcome to the Franklin Family: your ultimate guide awaits!
Are you excited about the incredible opportunities that the Franklin experience holds for your student? We understand that this journey is both thrilling and challenging, and we are here to support you every step of the way. As a part of the Office of Advancement, we are delighted to present you with an invaluable resource - the Franklin University Switzerland Parent's Handbook!
Excited to dive into this treasure trove of information? Click the link below to download your copy of the Parent's Handbook:
What's Inside
This comprehensive handbook has been carefully curated to provide you with all the essential information you need as the academic year progresses. It covers vital aspects of your student's university life, ensuring they have a rewarding and successful future. Here's some of the information that you'll find inside:
Academic Insights: Discover everything about the academic programs, curriculum, and support services that will help your student thrive in their studies.

Financial Guidance: We understand the importance of financial planning for your child's education. Find expert advice on scholarships, financial aid, and managing expenses.

Campus Life: Learn about the vibrant campus community and the array of activities and clubs available to enrich your student's university experience.

Local Guide: Are you new to the area? Fear not! Our handbook includes a quick guide to area accommodations and top-notch restaurants, ensuring your visits to the campus are filled with comfort and joy.
To further enhance your connection with Franklin visit the section of our website dedicated to families like yours. Explore a wealth of information specifically designed to cater to your needs and interests.
Get Involved and Make a Difference
At Franklin, we believe in the power of community and involvement. We warmly encourage you to become a part of our thriving family. Here are some ways you can make a difference:
Admissions Ambassador: Help prospective students and their families by sharing your Franklin experience and insights.

Career Mentor: Guide and inspire our students by becoming a career mentor and assisting them in shaping their future.

Global Events: Attend Franklin events around the world, connect with fellow parents, and celebrate the spirit of Franklin together.
Contact Us:
Should you need any assistance beyond what the handbook provides or have additional questions, suggestions, or comments, we are here to help! Feel free to reach out to us at advancement@fus.edu, and we'll be more than happy to assist you.
Welcome once again to the Franklin University Switzerland family. Together, let's make this journey an enriching and unforgettable experience for your student!