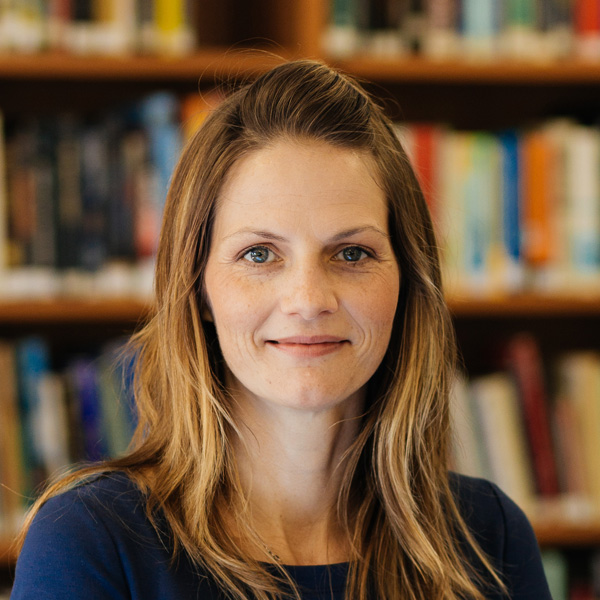 Alison Vogelaar
Associate Professor, Communication and Media Studies
Ph.D. University of Colorado
M.A. San Diego State University
B.A. Colorado State University
Office: Villa, North Campus, Loft
Phone: +41 91 986 36 38
This email address is being protected from spambots. You need JavaScript enabled to view it.
Profile:
Alison E. Vogelaar, in addition to her role as Associate Professor of Communication and Media Studies is also a member of the Center for Sustainability Initiatives. Vogelaar received a Ph.D. in Communication from the University of Colorado-Boulder where she also completed a certification program in the Center for Science and Technology Policy Research. As a faculty member in the Communication and Media Studies program she teaches courses that explore the relationship between media, communication and power. She regularly teaches a course cross-listed in the Environmental Studies program called Environmental Discourses as well as a First Year Seminar, Globalization, Media, and Movements and an Academic Travel course, Symbolizing Scottish Folk.  Her research interests include environmental and ecological discourses, advocacy and activism, maker movements and spaces, and sustainability in higher education. Her recent publications include two pieces that alternately explore the functions of place in the OWS movement as well as an article that examines the ecological 'controversy' and discourses surrounding 'invasive species'. She presently is working on two edited volumes: one that surveys the diverse genres and approaches to 'environmental collapse' in popular, political and academic texts and another that explores the changing representations of nature and the city in the context of contemporary global transformations.
Publications:
Vogelaar, A. E., Hale, B. W. and Peat, A. P. (eds) (forthcoming). The Discourses of Environmental Collapse. Routledge
Gee, G. and Vogelaar, A. E. (eds) (forthcoming). Nature and City: Changing Representations, 1960s-1970s. Routledge
Vogelaar, A. E. and Hale, B. H. "The Postcolonial Garden City? Changing Representations of Nature in Christchurch, New Zealand", in G. Gee and A. E. Vogelaar, Nature and City: Changing Representations, 1960s-1970s. (forthcoming). Routledge.
Vogelaar, A. E. and McKernan, C. M. (forthcoming). "Making Space for a Revolution: Operation Occupy Wall Street as a Maker Movement. In J. Hunsinger and A. M. Schrock (eds) Making our World: The Hack and Maker Movements in Context. Peter Lang.
Vogelaar, A. (2015) Staging Revolution: The OWS Encampment at Zuccotti Park. Media Fields, 9. http://www.mediafieldsjournal.org/staging-revolution/
Hale, B. and Vogelaar, A. (2014). The Road Less (Sustainably) Traveled: A Case Study of Academic Travel at Franklin University Switzerland. In W. Leal Filho, U.M. Azeiteiro, S. Caeiro, and F. Alves (eds.) Integrating Sustainability Thinking in Science and Engineering Curricula: Innovative, Methods, Approaches and Tools, Springer, pp. 183-196.
Vogelaar, A. and Hale, B. (2013). Constituting Swiss Heritage: Discourse and the Management of Invasive Species International Journal of Tourism Anthropology,3(2), pp. 130-149.
Long, J., Hale, B. and Vogelaar, A. (2013). Toward Sustainable Educational Travel. Journal of Sustainable Tourism,22(3), pp. 421-439.
Hale, B, Long, J. and Vogelaar, A. (2013). A-Broad Review: Sustainability in Educational Travel. The International Journal of Sustainability in Higher Education, 14(4), pp.349-366.
Vogelaar, A. (2011). Goracle's Travels: Envisioning Global Communities for Climate Change in An Inconvenient Truth. Culture, Language, Representation, 9, pp. 225-244.
Vogelaar, A. (2011). Fatal Abstractions: A Reflection of Cinema, Suburbia and Slaughter. JAC, 32 (1-2), pp.337-346.
Keränen, L., Lesko, J., Vogelaar, A, and Irvin, L. (2008). 'Myth, Mask, Shield, and Sword': Dr. John H. Marburger III's Rhetoric of Neutral Science for the Nation. Cultural Studies←→Critical Methodologies, 8 (2), p. 159-186.
Work in Progress:
Vogelaar, A. E. and Hale, B. W. (under review). Eco-Migrants: The Rhetoric of Invasion Ecology and the Management of "Novel Ecosystems".
Vogelaar, A. E. and Hale, B. W. (Edited volume). Imagining the Fall: The Discourse of Environmental Collapse.